Mini American & Our Generation Girl Clothes
For 6- 6 1/2 inch Dolls
* only means can be seen on another page ...there not more than one of them...

On Ordering an Item/s:
To order an Item or doll just send me an e-mail with what you want from my site and Iíll get back with you on the total with shipping & if it still in stock.
You'll need to write in email, Name & number of doll or Items you want... (for more information see ..shipping section in purple squares on home page
Send orders to my email address at urspecial2@roadrunner.com And Iíll get back to you as soon as I can. †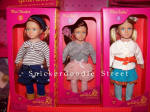 Mini Girls
Click on picture will blow them up to bigger picture. Pets are not included unless stated....

mini butterfly birthday cake*
$6.00

m-AG-4
Julie's dark Pink Poncho
$3.00

m-AG-18
Julie's light pink
poncho
$3.00

m-AG-22
2pc red colonial
dress & hat
$12.00

m-AG-40
Red corduroy pants &
knit top
$10.00


m-AG-49
Jose's southwest
skirt
$3.00



m-AG-50
Jose's Yellow skirt
$3.00

m-AG-69




Pink

cupcake dress
w/ purple bow & hat
$10.00


m-AG-55
Addie's white
summer dress
w/ straw hat
$8.00


m-AG-70
Blue cupcake dress
with party hat
$10.00

m-AG-72
school dress
dark flowers
w/white flower
$8.00





m-AG-78
Gold leaf Pinsetter
dress
$10.00



m-AG-94
Blue felt coat
w/matching boots
$10.00

m-AG-95
black felt coat
w/ matching boots
$10.00



New


Slip on Shoes
one of each color
mAG-
s-05- pink
s-07- green
s-08- yellow
s-11- Beige


$3.50 each




purple short set (Sold)
m-AG-98
pink short set w/white top
$6.00 each

m-AG-31
Ivy raspberry Beret
only...
$2.00

m-AG-43
Kirsten's red
sun bonnet
(2) @
$2.00 each


m-AG-107
pink & blue poncho's
$2.00 ec

New
Shoes
Black Mary Jane's
mAG-s-MJ-01
6 pairs
@ $3.50 Each